How to holiday best in Tulum, Mexico!
Tulum is situated on the caribbean coastline in Yucatan Peninsula in Mexico about 1.5h drive south from Cancun and it is known for it's gorgeous beaches and well preserved ruins. You've probably heard of it countless times everywhere on instagram.
It's a place very dear to my heart for so many reasons. It's the place I've taken my first ever long haul flight to, years ago before instagram days, the place where we did our honeymoon, the place where I've felt like living in a proper telenovela after spending my teens watching mexican soap operas and learning spanish from it. I still remeber our first dinner here where mariachis played, my heart could have burst.
In recent years, due to so many "influencers" it certantly became a little touristy but not as touristy as Cancun or Playa Del Carmen so it still has the town feel to it.
Let's dig into how you can holiday best in here!
1. When to Go!
Tulum is an all year round warm weather so it can be enjoyed anytime but the best months to visit are October, November and December. It's right out of hurricane season, the weather is warm and not extremely hot. October tho can be a little rainy but you're sure to get full sunny days too. From January to March is the most crowded and July and August the extreme hot weather. We experinced all of them, the extreme hot in august with not one rainy day, the september weather, lucky no rain on our 7 days there but heard that when we left our friends had 7 full days of rain and also we did october too which was a mix of hot sunny days as well as some rainy ones.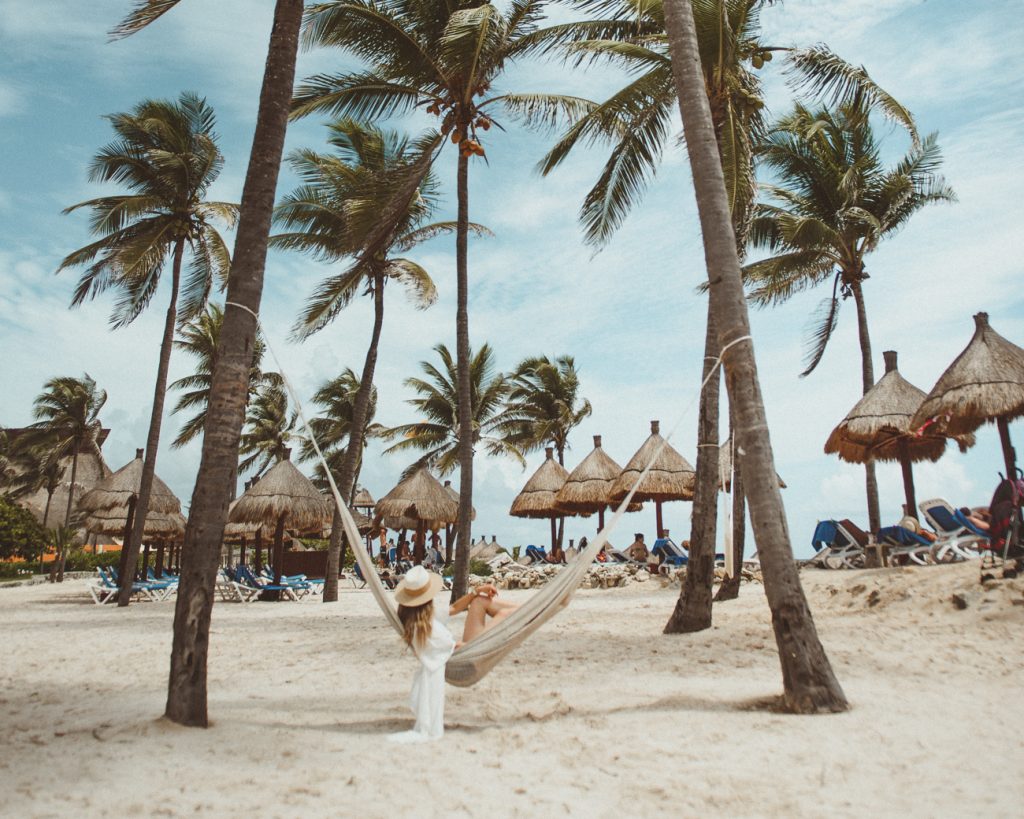 2. Accommodation!
Needless to say that if you decide on a beach holiday you're not gonna want to base yourself in the middle of the jungle but right next to the beach. And here is comes my biggest tip of how to holiday best here in a more luxury way (coz who doesn't love that?)! An all inclusive resort it's the absolute best and most money saver way to holiday here. This totally doesn't mean you are 'stuck' in your resort to make sure you make the most of your money. If you manage your time well you're totally taking full advantage of the all inclusive service.
So, if you'd like to experince a more luxury holiday yet not break your bank I've got your solution. 20 minutes out of Tulum there are a few 5 star resorts with private beaches, close enough to Tulum yet not bank breaker. We stayed in 5 star resort near Akumal and paid only 750$ all inclusive for an entire week for both of us! Like WHAT? Ok, I admit we got it on 70% discount because it was straight after summer holiday, out of peak season and they always have this deal on at that time for the year. So the best tip for a luxury yet affordable holiday is to go out of peak season and little outside of Tulum. Here is a few images of our resort and private beach.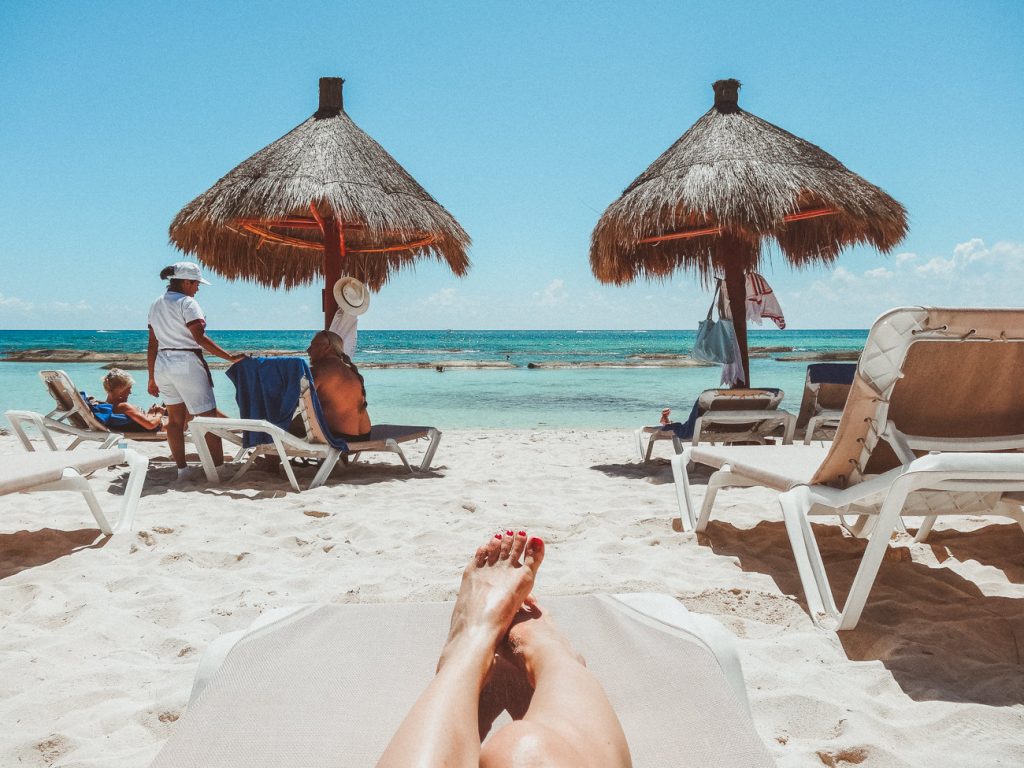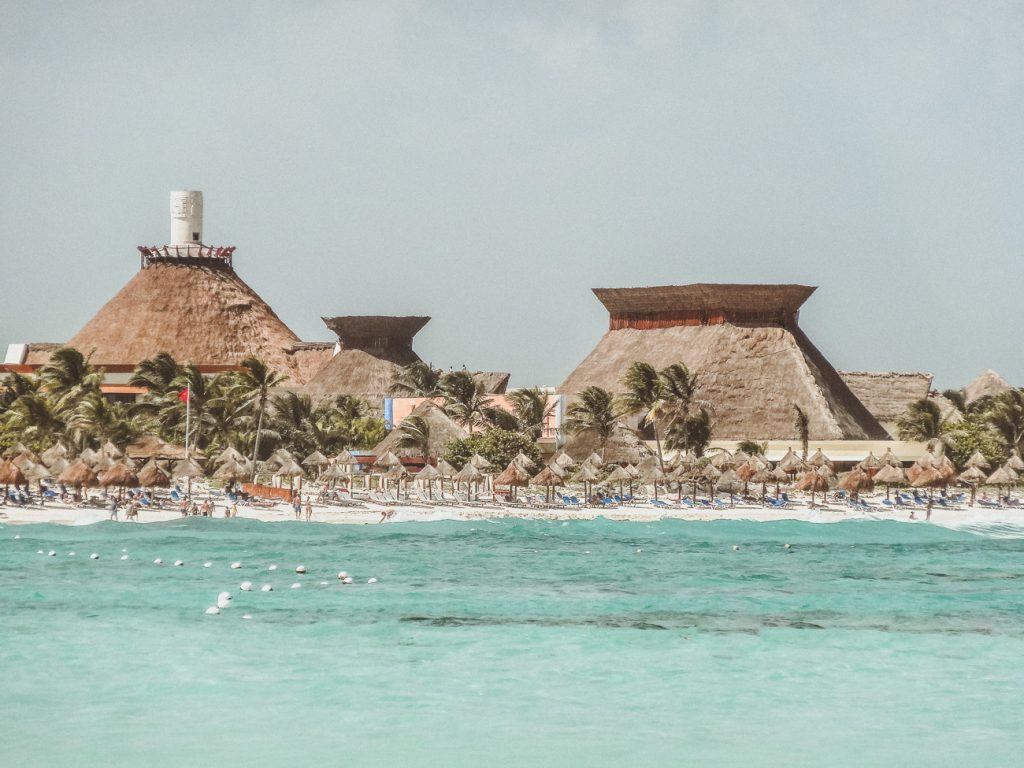 You really get a lot for your money in Mexico. The food at these resorts is outstanding. From fresh cooked all kind of breakfasts to theme food nights from all corners of the world, ofcourse as well as non missing those mexican tacos! You always have the option of the buffet restaurant or many other themed 'a la carte' restaurants on site if you wish to be served. The buffet one is so so good we weren't really interested in other restaurants, although on my birthday we did go to one to make it special and it was bliss! Btw, all other restaurants are also included in your all inclusive package.
Work on that tan, eat amazing food and sip on those cocktails all day long. When that gets a little too much (never ofcourse haha) you can take a day trip somehwere in Yucatan. A full guide for day trips from Tulum to Yucatan Peninsula here.
If you're not bothered about a 5 star experince and don't mind where you stay then let's talk a little about Tulum itself, should you decide to stay there.
Tulum seems to be split a little in 3 parts.
The public beach – you can find enough accommodation here on different budgets. The beach has white beautiful sand but a little firm because of so many people and anchored fishing boats. The cons are, its a public beach so it will be crowded.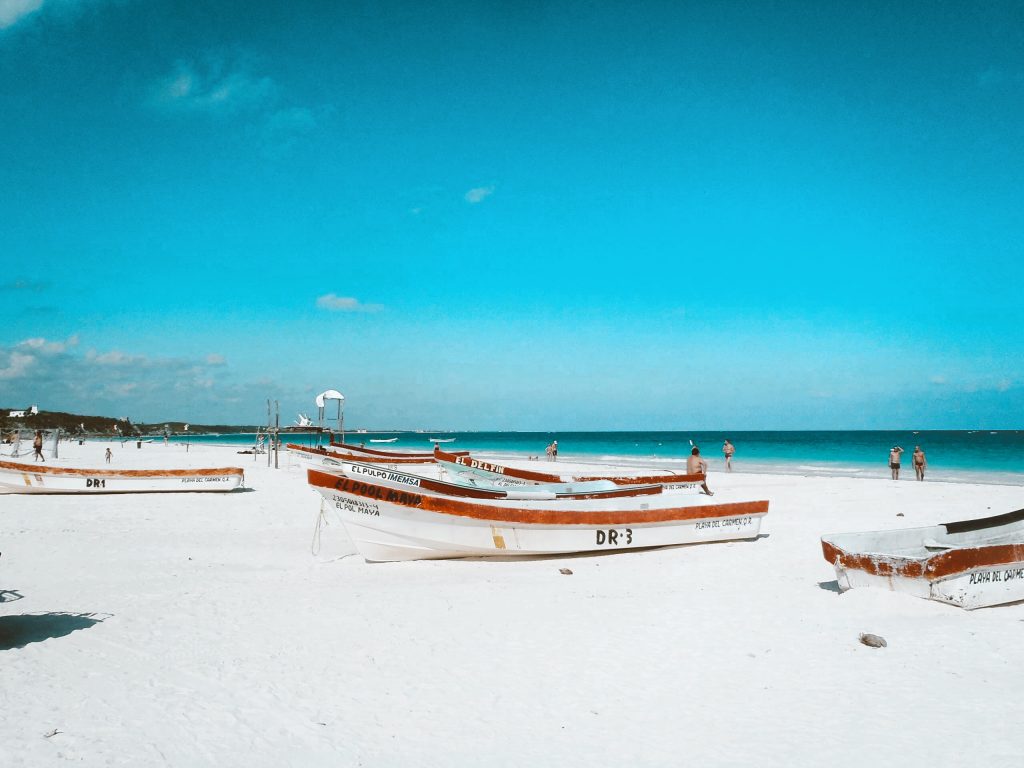 The town centre – lots of places to stay and super close to the beach, 15min drive but missing the beach feel and more on the budget side.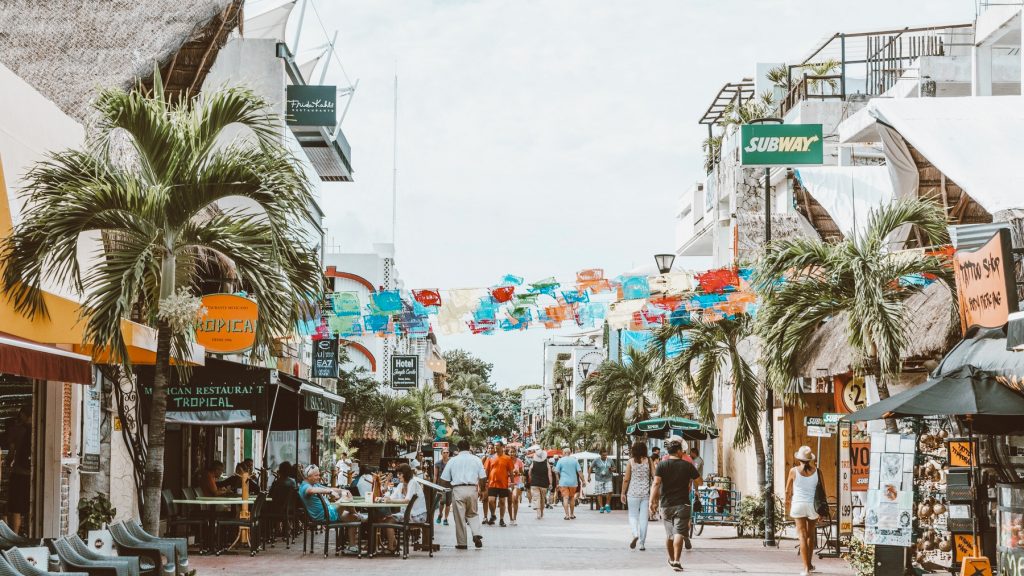 The so called 'private beach' – which isn't a private beach in itself but it's the most expensive area in Tulum with high-end hotels on the whole stretch which owns part of the beach before you hit the water (if that makes sense), this is the paradise, perfect white sand beaches, chic restaurants, high-end shops etc. You can only access this beach if you go through a restaurant or hotel, we were taken a little by surprise the first time exploring here ending up in a restaurant instead of the beach. When the waiter approached us all we said was that we wanted to go to the beach and noone stopped us. Even tho we had a private beach at our resort which was beautiful in itself it definitely does not compare with the gorgeousness of the 'private' beach in Tulum which is totally something else! So we ended up packing our towels and going to the 'private' area. You can also pay for a beach club and enjoy a sunbed a full day here too. There are also some chic cafes where you can enjoy an iced coffee, a fresh coconut or a smothie bowl which makes you feel you've earned your stay on the beach so it's totally worth the spend. If you're one of the lucky ones to afford staying here you can find some of the best hotels like Papaya Playa Project, Nest, Casa Malca, Ahau, Be Tulum, Coco and the list goes on.
3. Transport!
If you don't drive, every all inclusive resort will offer airport transfer so you won't have to worry about it but if you wanted to have the freedom of exploring Yucatan, hiring a car is the best way. We hired an SUV for 7 days and it came to as cheap as 75$. If you go for a small car you pay half the price, 35$ for 7 days its almost nada. Having a car it's the best ever. You get the best of both worlds. Relaxation and exploring!
First tip to make the most of your all inclusive, make sure you get up nice and early on the day you decide to explore, have breakfast at the resort then pack a little lunch with you and just make sure you return in time for dinner. We have done it multiple times and works perfectly. Ofcourse, treat yourself a few times with those yummy smoothie bowls or a fresh coconut 🙂
4. What to do in Tulum!
Mayan Ruins – Tulum Archaeological Site – although not as impressive as Chichen Itza it's totally worth the visit learning about their sophisticated calendar systems and hieroglyphic writing, the outstanding architecture, pottery and astronomy. The Ruins in Tulum overlooks the caribbean coast and you can even swim here at the end of your tour. The beach is very small but it was voted one of the top 10 most beauitful beaches in the world. You can also visit the Coba Mayan Ruins too, not by the coast but in the middle of the jungle beauty.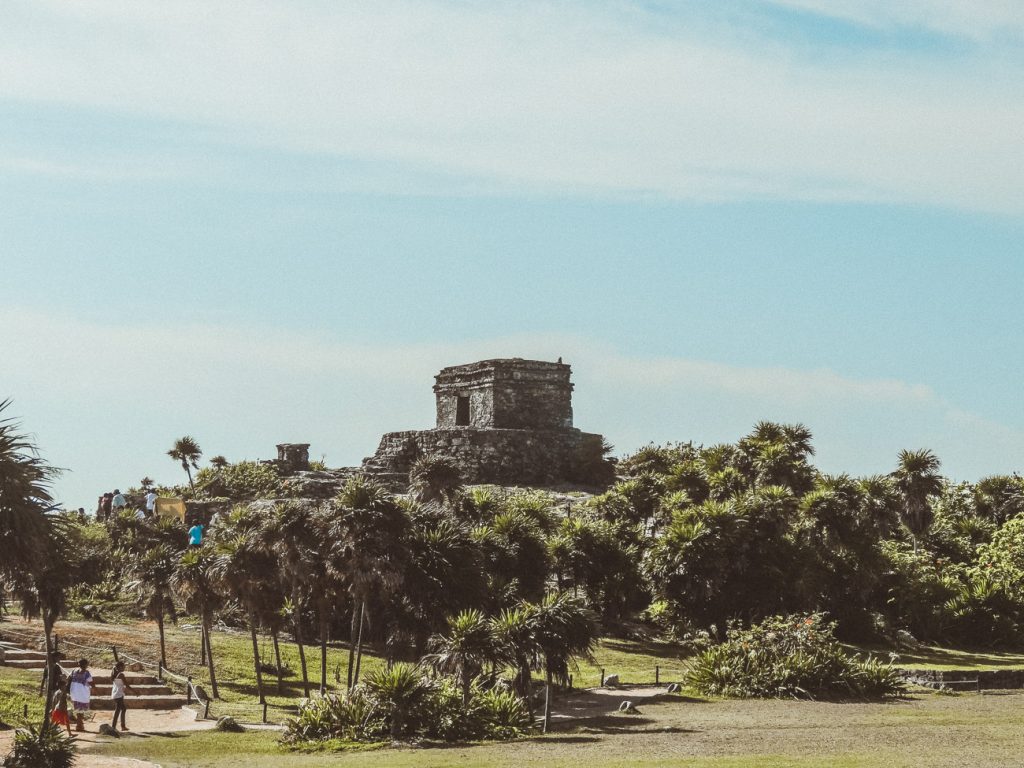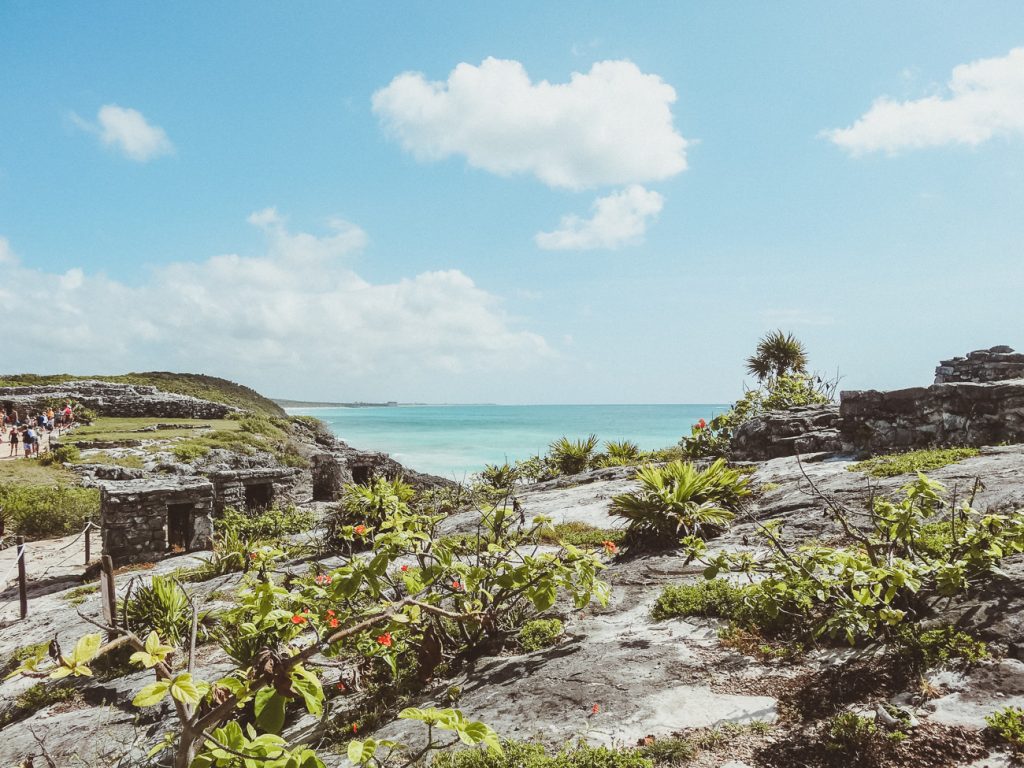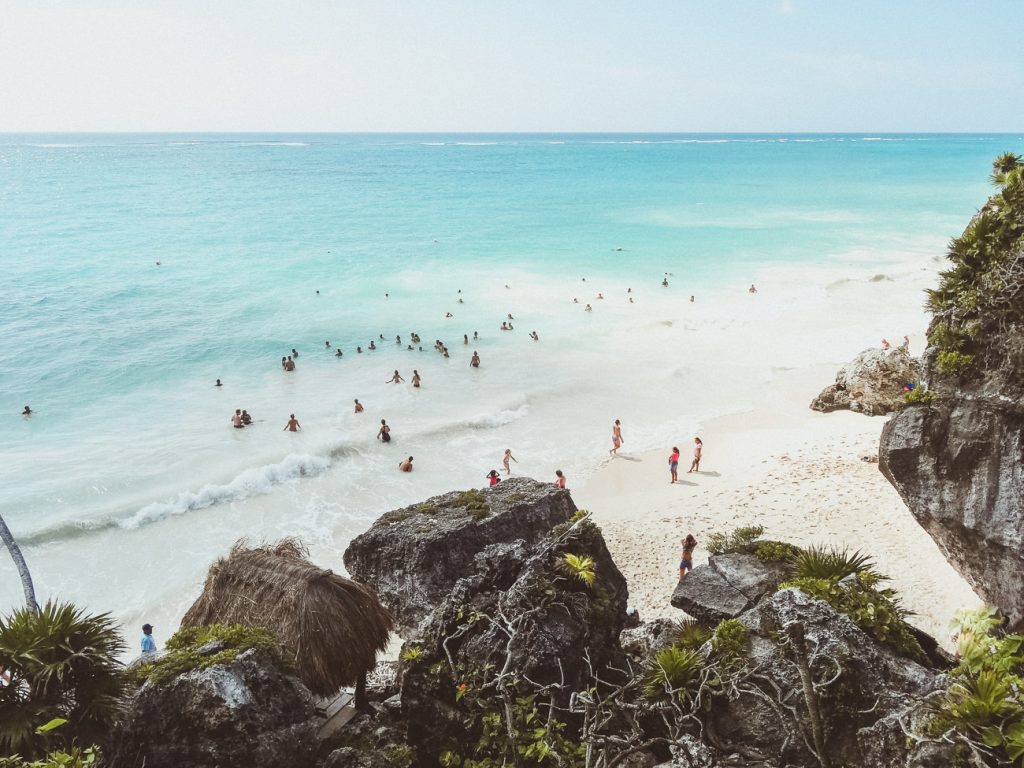 Cenotes – you've probably heard this word many times but still confused of what they are. It's a natural pit or sinkhole, resulting from the collapse of limestone bedrock that exposes the ground water underneath, most of them has pure clear blue water exept for some. The water is very cold but refreshing to swim in the hot mexican sun. Be aware that most of them are full of mosquitos and you're not allowed to use any type of mosquito spray so be prepared to get bit a lot. This is one of the reasons we only decided to visit two cenotes. All cenotes differ in price from 2$-15$pp. The best ones to visit near Tulum are: The Grand Cenote – this is the most popular and the most instagramable with loats of boardwalk and best for snorkling. Dos Ojos – (the one in the images below) its part of a flooded cave system, probably the most pricey one but an amazing experince (exept the mosquitos hah). Cenote Calavera – big swimming whole also perfect for scuba diving.
Azulik Resort – visit their art exhibitions which is free entry. Upon arrival you'll be asked to take your shoes off while walking around. No professional cameras allowed, only mobile phones. If you want to watch the sunset from one of their nests while enjoying a drink overlooking the jungle this is the best spot for it. It's a minimum of 50$pp spend.
Casa Malca – once owned by infamous drug lord Pablo Escobar now turned into luxury accommodation filled with items from Pablo Escobar collection. Most known for it's grand entrance with huge curtains made of wedding dresses which you've surelly spotted at least once on instagram. It's a minimum of 45$ spent to visit the grounds but we were lucky enough it was a little rainy and empty and they let us in with only purchasing a small drink. The down side was that there were no sofas on the chains, neither carpets but the stuff was nice and put up for us the sofas only.
TIPS
Make sure you take pesos with you and US dollars. Most places takes only cash in both currencies but it's better if you use pesos because it works out better for the exchange rate. Also, due to a lot of american influence, mexicans now expect a tip so allow some cash for tipping.
There are a few small parking lots on the stretch of the private beach which is pretty cheap to park but lots of people park on the side of the road for free but I would recommend using the parking lot.
Hire a bike to explore around, most fun way!
Get lots of tan and drink lots of cocklails
PIN IT