5 DAYS in LAS VEGAS
That big controversial conversation about you either hate or love Las Vegas. We LOVE it! There is so much more here than just gambling! The Las Vegas Strip is one of the most popular vacation destinations in the world!
I can't stress enough how important it is to experince this place the right way. If you travel around California and on a budget this is the place where you should try make is special. Nothing like staying on The Strip in one of those huge resorts. You dont have to spend thousands, just plan it right. Weekends here are 3 times more expensive so try make your stay during the week days. Our first stay here (we're now on our 4th haha) was at Mandalay Bay and oh my! What a hotel! Their incredible wave pool is one of a kind with an artificial beach with sand imported all the way from Bahamas, lazy river for a nice splash, hot jacuzzi in the blazing sun its like 'im not going back home anymore'.
TIP – if you stay in one of the MGM Resorts (there are lots) your room key gives you acces to any of their resorts facilities, so if you can not stay, for example, in Mandalay Bay at least you can take advantage of their facilities.
Take the first day to just chill by the pool and relax, explore The Strip and end up in the evening by Bellagio water show. Most impressive at night, runs from 8pm every 15mins, its amazing! Also every 30 minutes between 3 p.m. and 8 p.m. Walk further down to Miraje Hotel for the fire show called The Volcano, this one only runs at 8pm, 9pm and 10pm (its incredible, dont miss it). If you start at 8pm or so at Bellagio you could see 2 water shows then walk to Miraj Hotel and be there by 8.45 and wait for the 9pm fire show, it will be crowded.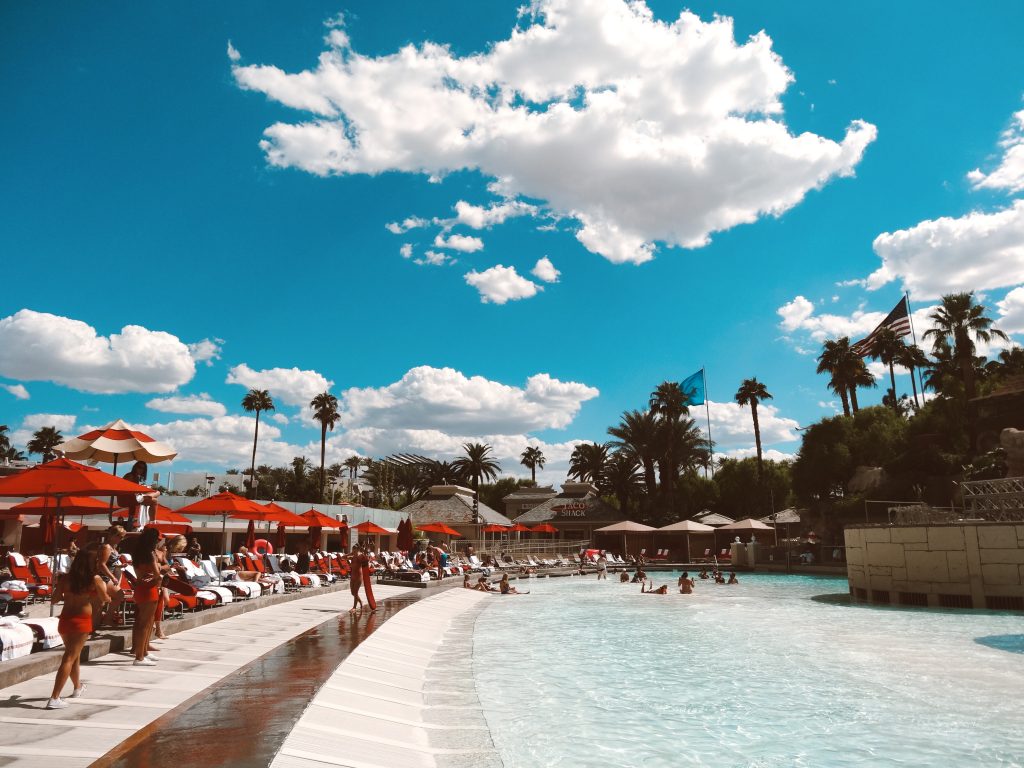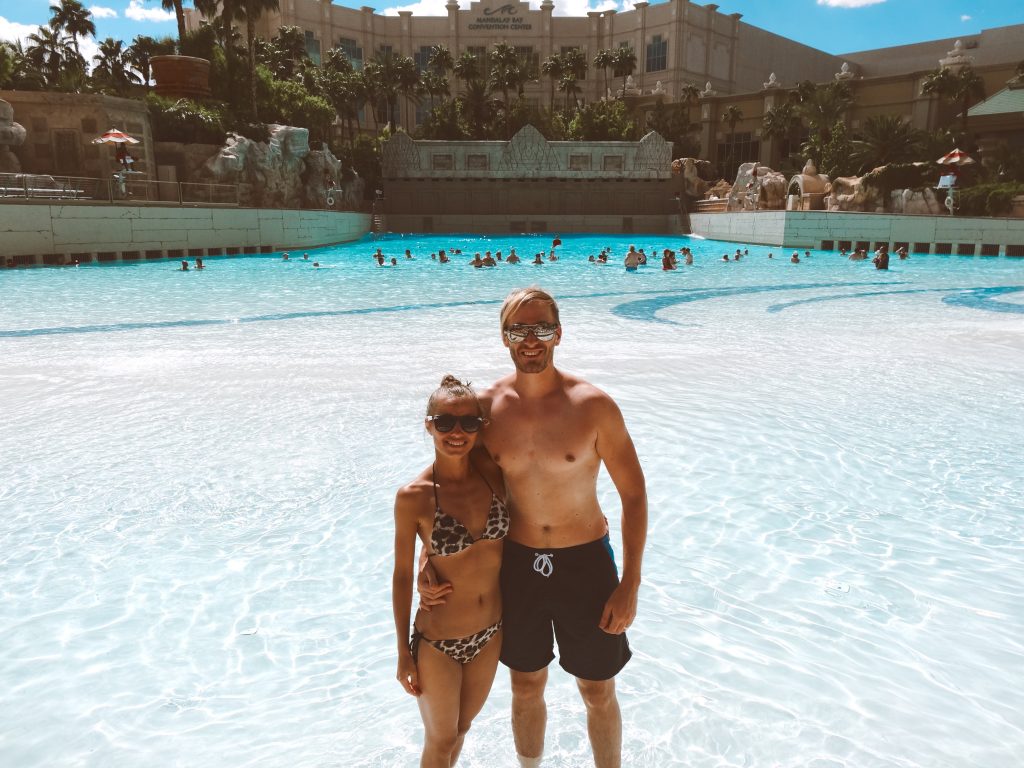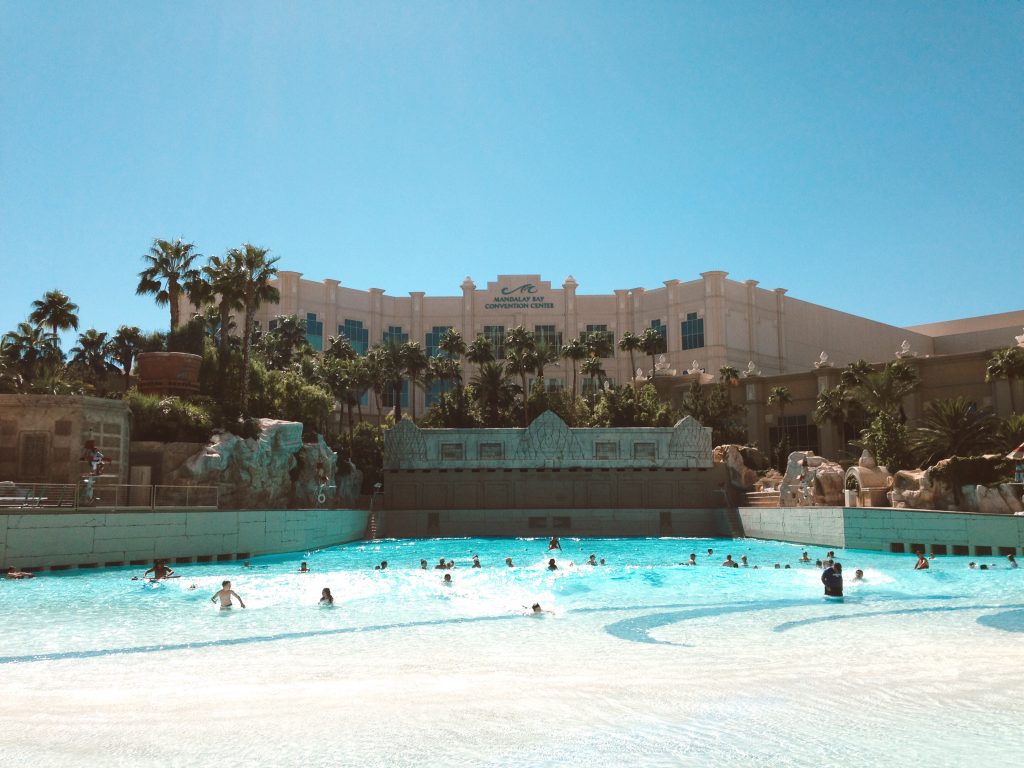 Other AMAZING things to see on The Strip:
drive to the famous 'Welcome to Fabulous Las Vegas' sign featured in so many movies. There will be a lot of people lining up to get a photo with the sign so my tip is, take a shot from the side, it will turn just as nice and no need to wait for ages.
Bellagio Hotel Lobby – Called Bellagio Conservatory – absolutely spectacular! It's like a miniature Disneyland for plant fans. The display changes 5 times a year and it takes 7 days to do the change. We got to see different displays each time and never dissapointed!
Flamingo Hotel Court yard – wildlife habitat – Its a free zoo-like oasis and its home to more than 60 exotic birds (including Chilean flamingoes, of course), 20 turtles and 300 fish. Swing by for one of the twice-daily feedings, held in a section dubbed "Pelican Island" at 8:30 a.m. and 2 p.m. and hear the amazing story of how the pelicans got there (won't be spoiling it for you)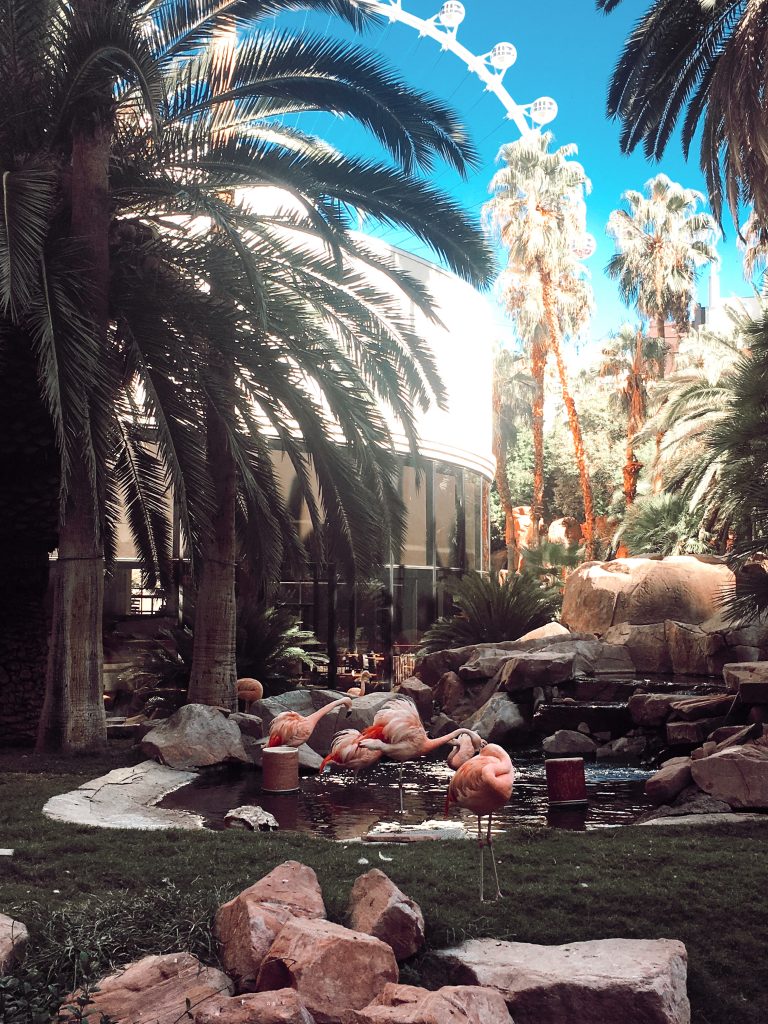 Caesars Palace – there is a free 11minute show called "Fall of Atlantis" inside the Forum Shops at Caesars Palace, tells the story of the Lost City of Atlantis, and what happens when the ailing King Atlas must decide which of his children should rule. Shows start every hour between 11 a.m. and 10 p.m.
The Venetian's canals – your best bet to expecience a piece of Venice if you've never been to Venice
All of the places mentioned above can easily be done in one day! Start at the top of the Strip and make your way down popping in and out of the famous casinos and hotels! Bare in mind you're in the middle of the desert which means that it gets very hot and The Strip is 4.2miles long so if you don't fancy walking it there are 3 free trams that connects one end of the Strip starting at Mandalay Bay all the way down to Treasure Island. The free trams (paid by the casinos) are on the West side of The Strip and operates independently than the monorail sytem on the East side which is ticketed. Using the trams will save you a lot of time.
You can finish the day with seeing a SHOW which is a total must when in Vegas! We recomand one of the Cirque Du Soleil shows, we saw 'KA' which was incredible but I heard that 'O' is even better. Also if you like a little magic there are plenty. We saw 'Criss Angel Show' and 'Penn and Teller Show'. There are plenty of shows for everyone's taste.
Ofcourse do not forget about the famous BUFFET places, Bacchanal Buffet inside Caesar Pallace, Bellagio Buffet inside Bellagio, Studio B Buffet inside The M Resort and so on. Any of these would be impressive. It's around 30$ per person but well worth it. A lot of people from Los Angeles would drive 5h here for the weekend to enjoy these buffet places.
One of our favourite things is to drink our way in smoothies with our favourite places being Juice Press – we reccomend fountain of youth (inside Bellagio Hotel) and for a sweeter tooth Jamba Juice – we reccomend razmatazz (inside Plannet Hollywood Hotel).
JUST OUT OF LAS VEGAS
Allow yourself a full day to explore the surroundings of Las Vegas, its jaw dropping!
Seven magic mountains it's a desert art installation featuring 7 painted boulder totems up to 35 ft. We personally have not been here but it's all over instagram so I thought I'd include it here with a shot from one of my favourite travel bloggers Haylsa and Kyle!
Neon Museum – features signs from old casinos and other businesses displayed outdoors. The museum features a restored lobby shell from the defunct La Concha Motel as its visitor center, which officially opened on October 2012.
One hour out of Las vegas is the Valley of Fire State Park, red standstone formations which formed from shifting sand dunes 150 million years ago.
Get up nice and early for a full exploring day to Grand Canyon, one of the 7 natural wonders of the world which does not need much explanation. Its a 2 hour drive. Ofcourse stopping on the way to Hoover Dam is also a must.
Once you arrive at the Grand Canyon visitor centre, you'll park your car here and you'll be taken by an official bus for the remaining of your journey. You are not allowed to drive through the canyon yourself. The bus will also stop you at the Hualapai Ranch which is an old town where you can travel back in time and experiencing a little of the Wild West.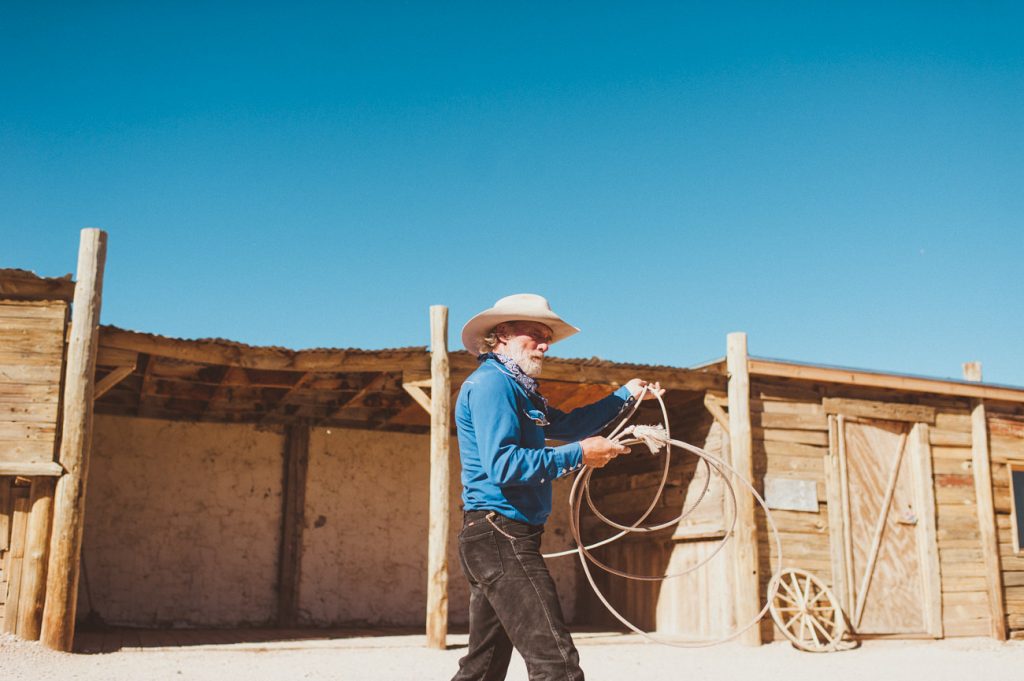 GRAND CANYON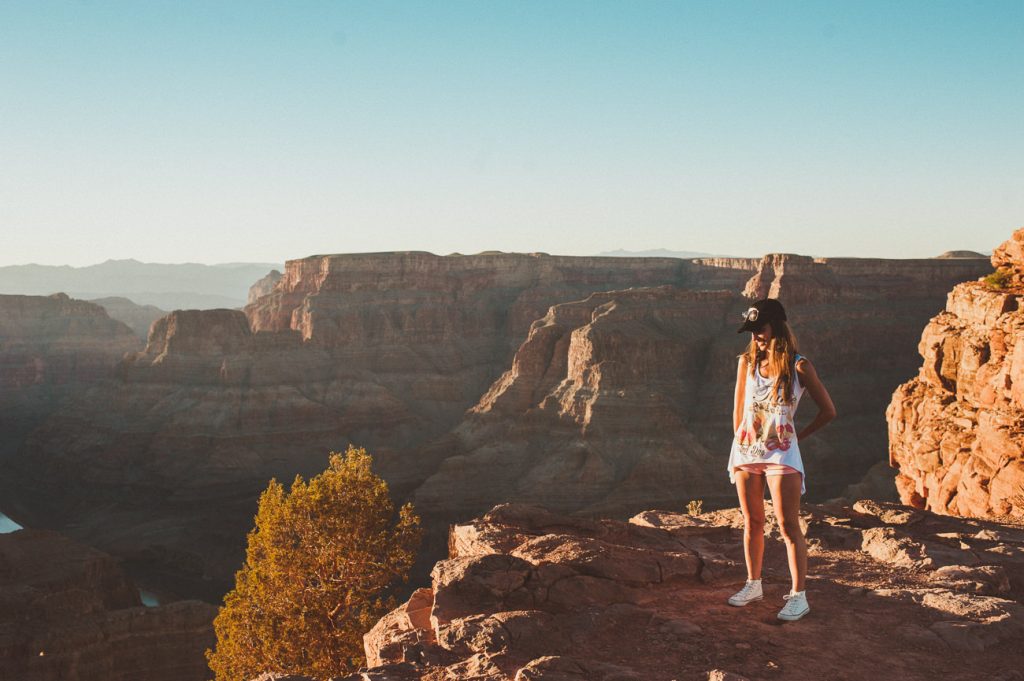 If your pockets allow, there are also lots of helicopters tours above the canyon with some of them even offering a stop down by the Colorado River with a picnic included.
You'll return to Vegas by night after an amazing day exploring!
Other things you can do in Vegas:
Thrilling rides at the Stratosphere Hotel
Go in one of the crazy ziplines
Enjoy an opened bar on the High Roller
Maybe a pool party
Or if you feel crazy adventurous you could even get married… and the list can go on and on!
PIN IT