14 Days California Road Trip Itinerary
AHH that Californian dream! As I start writting this I realise that we have already done at least 3 road trips here with a little extention into Nevada and Arizona, so I will try to combine some of the best bits we have explored so far. There is still so much more to see and I am already planning another road trip here soon.
I will start with my absolute favourite part about America. Driving! I love driving here! We always hire a big SUV straight from the airport and the moment we get in the excitment is always high!
DAY 1, 2 & 3 – LOS ANGELES
We started our adventure in La La Land (coz… obvious reasons). Decided that 3 days here would be perfect to explore around some the most famous 'names' in the world.
Find full intinerary of Los Angeles HERE
DAY 4 – PALM SPRINGS
From Los Angeles to Palm Springs is under 2h drive! Palm Prings is a cute little town, one upon a time luxury holiday place for rich americans. Go for a drive on East Sierra Way to see nice cute houses (particulary number 1100 with its pink door) to experince the real feel of this place. We recommand Ernest Coffee Shop for a good coffee and once on that stretch of the road (which is the middle of town) you'll find enough places to grab a bite. Close by you can venture to see Leonardo Dicaprio's villa 😉 Take in the views of the Coachella Valley on the Palm Springs Aerial Tramway.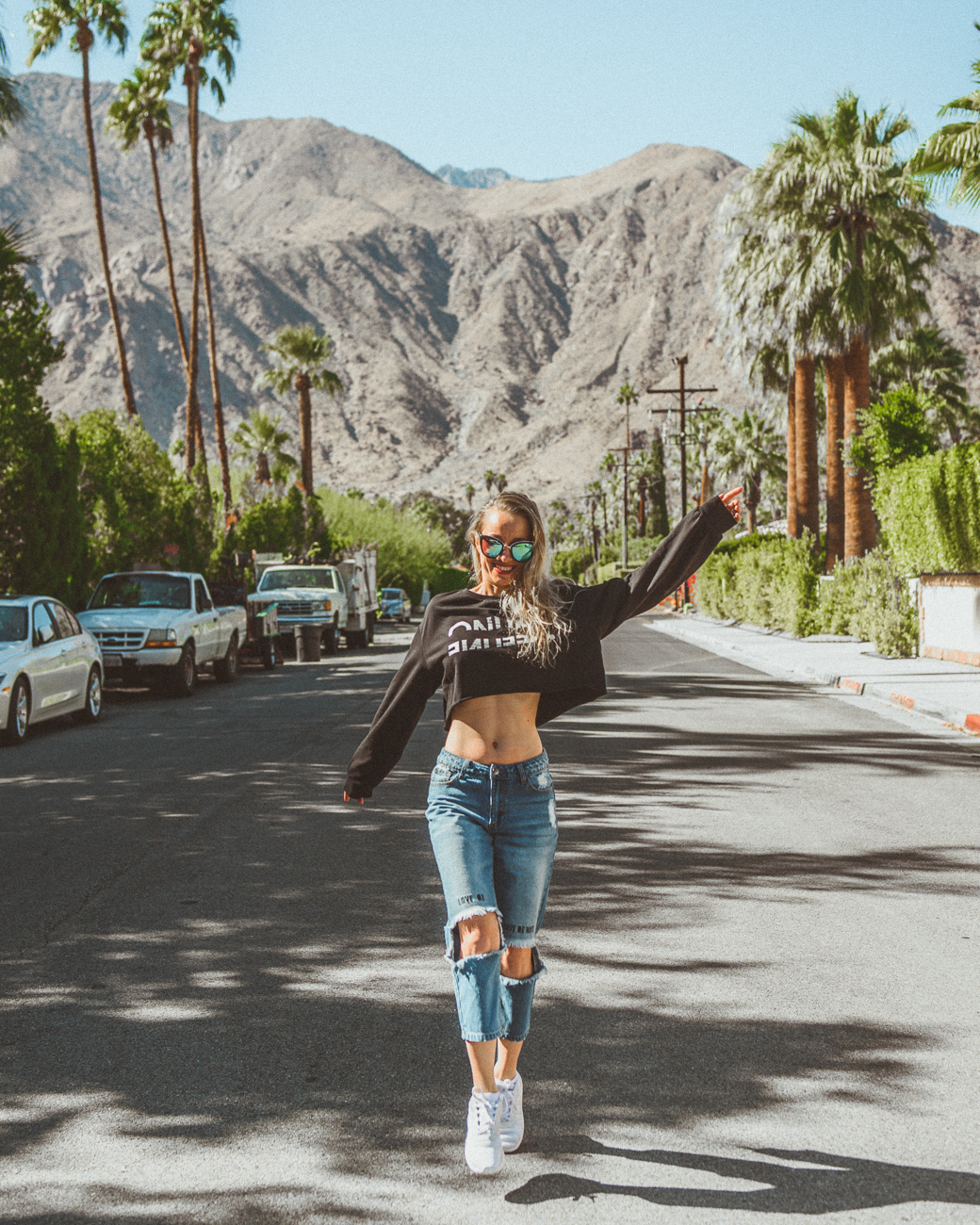 DAY 5 – Palm Springs to LAS VEGAS
Everytime we have a long drive ahead of us we dedicate that day to travel only with short stop overs along the way for either lunch or nice landscapes or little hidden treasures.
Here is some suggestions for quick stop overs on the way – Joshua Tree National Park – rugged rock formations and stark desert landscapes with its famous Joshua tree – this tree was named by early Mormon settlers, after the Old Testament prophet Joshua, as its branches reminded them of Joshua raising his arms to pray. Take some shots with those trees and then off you go on your way. If you have more time you could even stay the night in a cool airstream airbnb here and do some hiking.
Choose the route to Las Vegas via Mojave National Reserve which is a more scenic drive and mabe can do a picnic stop over there if you wish.
DAY 6, 7, 8 & 9 – LAS VEGAS
That big controversial conversation about you either hate or love Las Vegas. We LOVE it! There is so much more here than just gambling! Settle yourself here for 3 nights at least while taking day trips to some incredible places around.
Find full initenary of Las Vegas HERE
DAY 11 – DEATH VALLEY
Nice and early start with a 2h30min straight drive from Las Vegas. The drive in itself it's beautiful but the main points to stop here are:
Bad Water Basin – lowest point in North America with miles of the salt flats
Sand Dunes
Zabriskie point
Dante's View
Note that there isn't much around the Death Valley exept for a little visitor centre with a small shop so it's better you take some food with you and do a picnic.
I would recommend, once you finish your drives through the park drive staright to Bishop which is a bit more populated area and you can find a hotel to spend the night.
DAY 12 – YOSEMITE PARK
From Bishop there is only 1h straight drive to the east entrance of Yosemite Park. This place is just magical! It will take you a good 2 -3 hours to drive through the park. You wanna drive directly to Yosemite Tunnel View which is the famous image on windows screen. Continue your drive to Yosemite Valley, there is a visitor centre there as well and pretty much the end of the drive (only hikes from there on). Lots of pretty stops on the way. If you have time, Yosemite is a place where you can camp and do hikes, so if you're into that its a beautiful place for it.
After spending a full day in Yosemite Park there is aprox 1h drive to Mariposa where you could spend the night before heading to San Francisco next day.
DAY 13, 14 & 15 – SAN FRANCISCO
There is a 3h30min straight drive from Mariposa to San Francisco, you'll be driving over the Golden Gate Bridge, at this point please feel free to feel like in a movie haha. But be aware, there is a 6$ toll to be paid online after you drive through.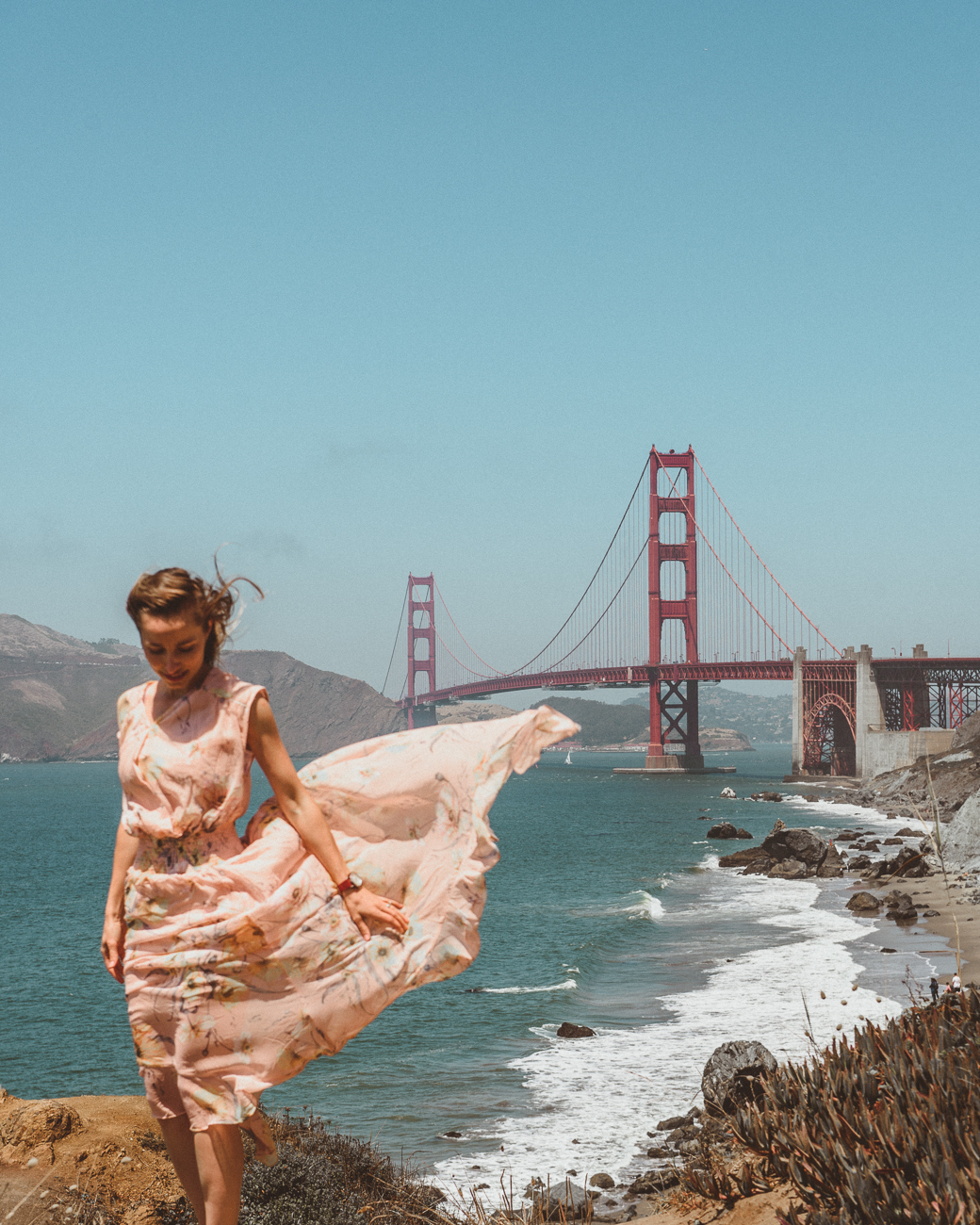 Arrive afternoonish in San Fran, check in your hotel and why not spend the rest of the day relaxing in a coffee shop and walk the streets of San Fran a little bit.
San Francisco will be your final stop. Parking in San Fran is around 40$ per day, very expensive. I would personally, return the car on arrival there and just walk around or use uber from A-B (uber pool is very cheap). Bus system is also very good. There is an app Called MUNI, which you can link to your bank card and top up money on it and tap it on the bus to travel, no fuss, super easy. Just google the directions and google will tell you the bus you need to take etc. Also, BART is the train/underground system, I used this to get to town from the airport and it was easy. Also, bare in mind that picking the car from Los Angeles and dropping it in San Francisco will most probably have a one way fee but if you search a little around there are some companies that includes the one way fee.
Find full ininerary for San Francisco HERE
TIPS
Check tolls and pay them online if not car rental charges 15$ admin fee for each toll.
Have some little cash for emergencies (some tolls are only cash).
Make sure you always fill your tank before the long drive, you're driving mostly through the desert.
Google maps works perfectly just dont forget your power pack, have it with you at all times and dont forget to charge it 🙂
Dont forget to tip, its America in the end of the day!
Most importantly HAVE FUN!
PIN IT